Published on
The Product Management Talent Challenge
The role of a product manager has evolved dramatically from it's origins at Proctor & Gamble in the 1930's where PM's sat within the marketing department representing the "voice of the customer" to being seen as a part of the engineering function during the rise of the technology disruptors, and then more recently beginning to be considered as a stand-alone function on its own.
During this time, the breadth of activities product managers participate in has grown considerably and now crosses multiple organisational functions. The McKinsey Product Management Index highlights just how many activities demand the attention of modern product managers.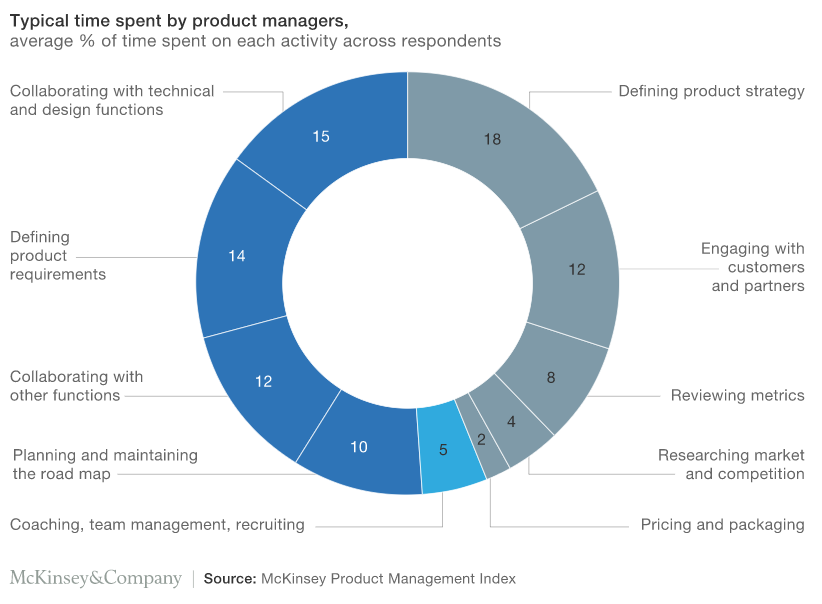 As you can see product managers are playing an increasingly central role to influence every aspect of making a product successful. Indeed, as more companies become innovation-focused, product management is becoming key to the success of the whole organisation. 
Because of this CEOs and technology leaders often identify the role of product manager as one of their top talent priorities and some of the most forward-thinking organisations are elevating product management to an executive level function to drive the product mindset across the organisation.
But despite the value product managers' bring and the central role they play in software organisations it is common that the role is misunderstood.
This lack of understanding has led organisations to under-appreciate product managers and underinvest in the development of their product management capability. The McKinsey Product Management survey found that:
Only 35 percent of product managers have clarity on what it would take to advance their career at their current company.
Only 20 percent said their companies had highly effective programs to identify and retain the best talent.
If you want to develop a world-class product management function it requires a multi-pronged approach but I believe there are a few key areas to focus on:
Develop a product management leadership model - Clearly articulate what the organisation wants and expects from its product managers. This should be behaviour led and inline with the organisations strategy and priorities. Not just a shopping list of skills and capabilities.
Design an end-to-end learning journey - Look to develop a bespoke career development pathway that teach core principles first and develops skills that can be applied in daily work rather than generic or aspirational training.
Make hiring a strategic priority - Understand what your organisations value proposition is for prospective candidates and develop interview approaches that assess for the real-life skills you need. Ensure existing product managers have time allocated to interview.
Over the years I have seen the challenges organisations have faced developing career paths for engineers, designers and now product managers. I'm intrigued to see how others will look to develop and support these roles in the future.